Lego, always on the cutting edge of innovative platforms, has just launched 'ReBrick' a fan community where people of all ages can submit their creations and post onto a forum.
Lego has such a highly active and dedicated community it makes perfect sense to create a hub destination where people can go and view other peoples builds and then share out among their own communities.
There are some interesting things to note:
The interface is instantly easy to understand.
It's very visual and less like traditional fan forums which tend to be text heavy
It had a Pinterest feel to it, another sign that curation is becoming a great way to cut through the noise online to create relevance
The content makes the site
I think that there are going to be more and more of these type of 'content hubs' where fans and customers come to share.   
Also see Porsche Drive + and Porsche Origin for other examples of fan content hubs.
---
As you may know I am fascinated (actually now obsessed) with online advertising and how it could be so much better. 
It seems we are right at the beginning of an interesting shift away from the disruptive, annoying, direct response form that 99% of online advertising takes. 
I believe, along with many others, that the future lies in being able to tell stories with compelling content whilst creating clever association with products and services. 
Now something occurred to me recently, there is one form of advertising that has been doing this for years and has it totally nailed…
The extreme sport video.
Created long before the internet age, this in essence is the ultimate advert.
Here is the formula (I am using snowboarding videos as an example):
Get a collection of world-class pro snowboarders who are sponsored by a range of snowboard brands (who promote themselves through out the video but in a non-intrusive manner).
Take the snowboarders and film them in some of the most thrilling places on earth.
Get the snowboarders to perform the newest tricks.
Attach an awesome soundtrack creating a 40 minute MTV type video.
Release the video once a year (Autumn time just before everyone is about to buy new equipment for the coming season).
And here is the genius part – CHARGE PEOPLE £30 TO WATCH IT
A picture of me performing a backflip, yesterday.
What you have here is the perfect combination of content, timing & promotion which, when you consider the brands charge for the video, comes together to form the ultimate advert! 
I think that there is a lot to learn from this for the rest of us.  I appreciate extreme sports have great content so the job may be viewed as easy but that still doesn't take away from the fact that they have got the other parts right too.
They have made an advert, a paid message, not feel like an advert. By telling the story to an engaged audience a strong level of loyalty and advocacy is created.
The challenge is to take the content that makes a brand unique and create stories around it that set you apart. By understanding and respecting your audience and offering real value the quality of relationship is so much better, in some cases having a consumer who is so engaged they'll pay for it!
This is the future.
Now where's my snowboard?
P.S. Check out the Burton Snowboard website, it is a thing of beauty with a goldmine of great content www.burton.com
---
Trailer for the 'Art of Flight'
---
When should you introduce ads to a social network?
---
Wired article on the problems and possible solutions to online ads
---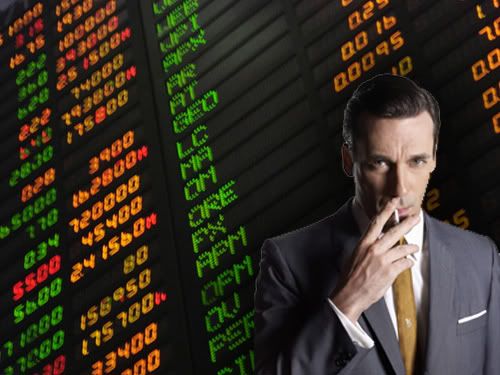 Don Draper at Wall Street, Yesterday
I attended AdTech yesterday, an ad industry trade show and conference in London.  As part of the day I sat in a panel based seminar titled " The Display Advertising Ecosystem Explained" where four industry experts gave their views.  I thought "oh good, this is an area I'm really interested in and I'm keen to see, as a brand advertiser, how new innovation and creativity might make display a more attractive advertising proposition". 
 I couldn't have been more disappointed
As far as I could make out the display ad ecosystem is essentially becoming a stock market.  Words such as "Yield", "Commodity", "Arbitrage" were banded round in the seminar with glee with no reference to creative innovation or improving user experience.  This depresses me a lot, not only as an advertiser but also as a consumer.
Whilst this type of sophistication in ad serving and buying is very impressive, I can't help but think if this is not a case of doing the wrong thing really well.  
In the future brands will need to create ongoing, trust based relationships that offer a great and relevant experience.  Display advertising could become a major way to build these relationships and actually begin to complement consumer's web experiences rather than interrupt it. However, when a brand message is treated in the same regard as sugar cane, pork bellies or wheat, essentially a commodity, with a focus on "maximising yield" and "extracting value", this relationship falters.
A recent study by ComScore found that 80% of all online display ads are delivered through third parties, meaning that advertisers are often unaware of how, where and to whom their advert is actually being served.  
What would Don think?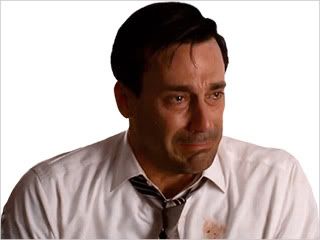 The mad men of the 60's prided themselves in creating brand stories focusing on how a product or service could be presented in such a way to compel a consumer to consider or purchase.  It was all about the brand message and promise. 
With the growth of DSP's, RTB, RSPCA's etc etc, it seems that all the innovation is focused on the mechanism of getting the ad in front of someone rather than considering the quality of what actually gets there.  Brand message and experience seems less and less important, to the point of irrelevancy. 
It appears it's all about numbers, volume and money and that's why today's Don Draper probably works on Wall Street not Madison Avenue.
---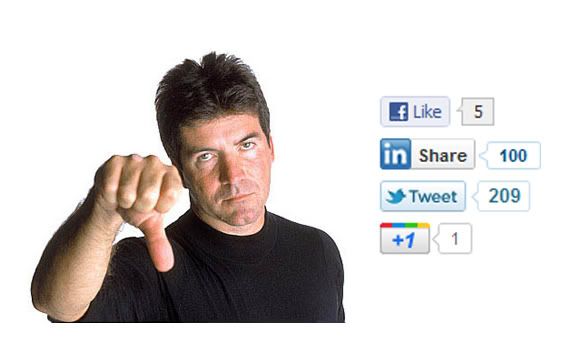 Undoubtedly for me one of the best things about the web is being able to discover new content and experiences.  Increasingly a huge majority of this is done via the sharing and liking of content, with nearly every article or video surrounded by a myriad of buttons for the various social platforms out there.
There is one thing that frustrates me though.  Not everything on the web is great and something that I'd want to share, like or +1. In fact in many cases I wish I could dislike something.  As people we are defined as much by what we don't like as by what we do. In many cases defining what we don't like actually creates a stronger profile of who we are. 
This is an interesting concept and something I think that is missing from how we interact and experience content on the web.  This is becoming increasingly relevant as there are so many algorithms out there constantly trying personalise content for us. 
One website that makes good use of the 'dislike' is Youtube.  Generally the ratings reflect the quality of the video incredibly well especially when the title of the video bears no resemblance to the content of the video itself.  When viewing YouTube I now look for the amount of red in the dislike bar rather than the green in the like bar, here's a good YouTube example.  Another good example is Rotten Tomatoes, the movie review site, as it allows you to quickly and visually reference aggregated opinion.
Most negativity around the quality of web content is expressed in a qualitative nature via the comments section. This is very useful but by the time you get to the comments you have generally engaged with the content already even if it's good or not. I think when casually glancing at a webpage a more consistent visual cue would be more helpful in determining the content quality . Something along the lines of the ratio of green (likes) to red (dislikes). There is definitely some similarity with the concept of the Net Promoter Score (NPS).
Anyway that's my thoughts for the day I hope you like it. If not, well sorry, there is no easy way to dislike it!
---
I am a big fan of the new Skoda vRS advert as it takes the previous Skoda ad concept and puts a refreshing spin on it.
Skoda have also done a very good job of aligning both online and offline activity.  At the 2011 Goodwood Festival of Speed they had a huge stand offering a 'Mean or Lovely' experience where you would choose whether you were 'mean' or 'lovely', you would then be directed around a fitting experience.  For example if you chose 'lovely' you could go and bake ginger bread men! The stand was easily the highlight of the show.
Kudos goes to Skoda who are doing a great job in redefining their brand by shaking off the past association with a low quality and slightly embarrassing product.  I'd buy a vRS!
Here's a link to the Skoda site http://www.meanorlovely.com/
---
---